You might be thinking to yourself, "Hey I've seen some nice looking high tensile fences around my country, I want one of those!" And if you are, you are right, you should want one! High tensile fence is strong, flexible and can be electrified. Oh, and it's easy to work with, once you learn how it behaves. Barbed wire fences have their place, but I like the ease, flexibility and reliability of high tensile fences.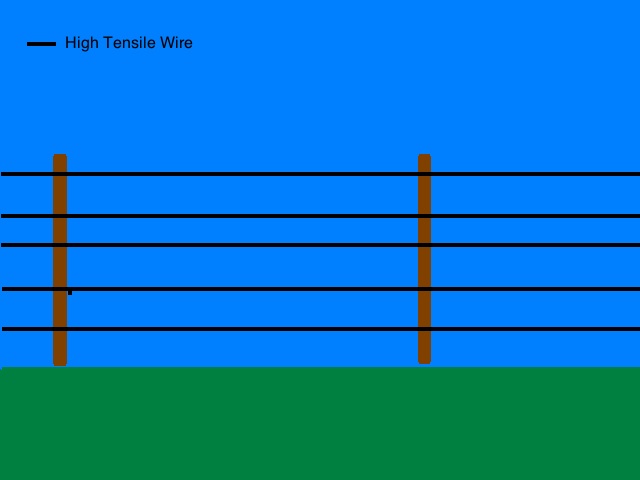 Today I'll talk about what you need to build a perimeter high tensile fence. How many wires you should use depends on local laws, your livestock's temperament and your location. If for example you live out in the middle of nowhere, you could probably use three strands for your perimeter fence, if you have cattle. If you are in a more populated region with more traffic, I'd suggest at least five strands. If you want unlimited flexibility in the livestock you can run after the fencing is done, you can use seven strands. Of course the more strands you use, the more expensive your fence will be. The bottom wire is usually the ground wire, regardless of how many wires you have.
The beauty of high tensile fence is, as I've stated, that it can be electrified. Here is my recommendation when deciding what items to buy to build your fence:
180psi High Tensile Wire, 12.5 gauge. This is easy to handle and knot by hand. Highly recommended you don't go above 180,000 psi.
A good quality "Spinning Jenny"
A gripple tool and gripples. This is an easy way to put tension on and join fences, wire to wire or at corner posts. These gripples can even be removed, which make them the ideal choice if you are leasing land.
A high quality pair of INSULATED fencing pliers. These are not like barb wire fencing pliers.
Another person to help you.
A high quality and durable set of corner posts. You can make whatever type of brace you like, I've made H-Braces. I also like to use solid fiberglass posts for corners. You can use steel or wood if you like.
Line posts. Again, I think solid fiberglass line posts are best. These are hard to find, so you can use wood composite. Greg Judy does sell fiberglass posts, which are very high quality and last forever. Contact him directly to buy them.
An ATV or truck is very helpful.
This list should get you started, and you now have a good idea of what to look for when pricing out your fence. The biggest expense is usually posts. Use whatever resources you have to your advantage when sourcing materials to build a fence. In the future I will post a "How To" on physically building a perimeter high tensile fence.
Here is a finished fence.
Please remember that you can subscribe here to receive e-mail when updates are published.